Used Rough Terrain Forklifts​
We connect you with local forklift dealers to help you find the best used rough terrain forklifts. Let them compete for your business!​
The Used Forklift Network  simplifies the buying process to get our customers used rough terrain forklifts at the lowest price possible.
We match you with forklift dealers near you based on what you are looking for.
Let them compete for your business!
Used Forklift Network  simplifies the buying process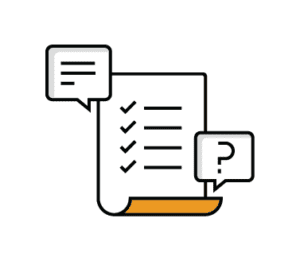 It takes 5 minutes to tell us what you're looking for
Receive Quotes from Dealers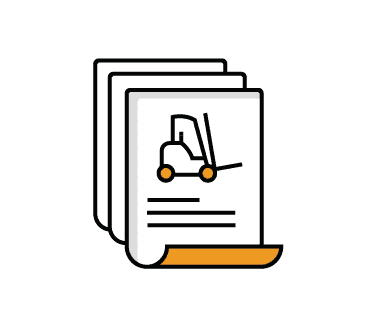 Our vetted forklift partners receive your request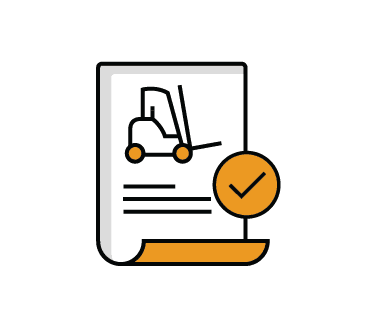 The entire process takes no more than five minutes
Rough Terrain Forklift​
Buying Guide​
Buying a
Rough Terrain Forklift
Do you have lifting needs on a construction site? More specifically, do you have lifting needs over uneven ground or surfaces? For example, does your construction site have rocky, hilly, muddy, or unstable ground? If so, you could need a rough terrain forklift to accomplish your job. Rough terrain forklifts fulfill your heaviest, most rugged lifting needs in a variety of conditions due to their ability to navigate uneven or unimproved surfaces.
Usually, these machines are used for natural terrain on outdoor construction sites because they are larger than other types of forklifts, have pneumatic tires, and typically have higher load capacities than other forklifts.
They are designed to navigate muddy, rocky, hilly, uneven surfaces, including snow and ice. If you have lifting needs over unstable sites, a rough terrain forklift is for you!
Types of
Rough Terrain Forklifts
There are three types of rough terrain forklifts – variable reach, vertical mast, and rotating telehandlers. Every project and site have different lifting needs, which will help you determine which type of rough terrain forklift is right for you.
Variable reach forklifts have the most flexibility of the main three types of rough terrain forklifts. It is a vehicle-mounted design with a telescoping boom that allows the operator to lift materials and move them between other objects, obstructions, and parts of the site.
Vertical mast forklifts are the most popular rough terrain forklift. They have two large tires in the front and two smaller rear tires for extra stabilization on the roughest of terrains. They have vertical support directly in front of the driver and require special training to operate.
Rotating Telehandler Forklifts
Rotating telehandler forklifts are similar to variable reach forklifts. They lift heavy loads, and their rotation features allow the operator to move the materials in a complete 360-degree circle using a turntable. Some types come with a second joystick purely for controlling rotation. They have extensive stabilizers to allow for this type of rotation and movement.
Buying
New or Used

Equipment​
Should you buy a new or used forklift for your project? As with many questions in construction, the answer is "it depends!" There are a few key questions to answer:
There are many benefits to buying a used rough terrain forklift. First, used forklifts can retail for up to 50% less than a new forklift.
The prices cannot be beat, saving you room in your budget for other needs. Second, the availability and inventory of used forklifts can be better than new forklifts. At times, ordering a new piece of equipment can take weeks or months to get delivered.
Finding a used forklift for sale can have a much quicker delivery date than that. If you choose to buy a used forklift, it is crucial to buy from a reputable dealer. A dealer can help you spot problems in used equipment you might not notice and help you find the right forklift for your needs and budget.
If you have heavy, high-volume lifting needs, you may consider purchasing a new rough terrain forklift for your project. Any piece of equipment wears under heavy, sustained use, and forklifts are the same. If you have these high-capacity lifting needs, a higher budget, or want a machine that will last for years on end, it might be worth considering a new forklift.
Looking for Rough Terrain Forklifts​ for sale or rent to meet your warehouse's needs?
Rough Terrain Forklift​
Brand
There are several popular rough terrain forklift manufacturers among forklift brands.
Case is one of the largest manufacturers of rough terrain forklifts. This company is known for the high load and lifting capacities of their forklifts, so if you need some heavy lifting power, the Case brand may be right for you. Additionally, this brand is lauded for its ease of movement and maneuverability, and ergonomic options to keep your forklift operators comfortable throughout their shifts.
Caterpillar is without a doubt the biggest name in construction equipment worldwide. All CAT products retain their value because of the reliability and durability that is synonymous with their brand name. Additionally, CAT's newest rough terrain forklifts are some of the most eco-friendly on the market. They have reduced emissions and have increased their fuel efficiency by nearly 22% compared to their older models.
JCB has an extensive range of rough terrain forklifts; this brand has a forklift that could meet every project need. They produce one of the best smaller, lighter-weight rough terrain forklifts on the market, perfect for lower lifting needs. Additionally, some of their models can operate wading through water. JCB is known for its durability but also its exceptional value.
Manitou started manufacturing and selling forklifts in 1957, making it one of the oldest brands in the marketplace. Manitou's extensive range of forklifts has options for every project need. Manitou machines are known for their reliability and durability. Manitou has positioned itself as a specialist in the rough terrain market and is often a go-to product for many looking for this type of forklift.
Komatsu is a world leader in rough terrain forklifts. They are known for the advanced engineering and comfortable ergonomic designs for operators. Additionally, they boast some heavy lifting capabilities for the majority of their range, as well as increased noise and vibration control.
When looking for a used rough terrain forklift, it is critical to work with a reputable dealer that you can trust. At used-forklifts.net, we use our extensive network in the industry and years of experience to find the best deals on used forklifts. After answering three simple questions, your job is over, and you can leave the rest of the work to us. We will procure deals that suit your budget and lifting needs and send them directly to your inbox, taking all of the time and hassle of finding equipment off your plate.
Contact us today to speak to one of our team members and start the process of finding the right used forklift for you!
Find the Right Equipment Now​
It only takes a few minutes!