Top Forklift Extensions [2021 Buying Guide]
Sometimes your standard forklift needs something extra to get the job done. Maybe you need to lift an irregularly shaped object, or a load that is taller and wider than average. These kinds of loads often require a forklift extension to safely lift and move the product.
See our Top 4 Below. Scroll down to read our in-depth guide and their individual reviews.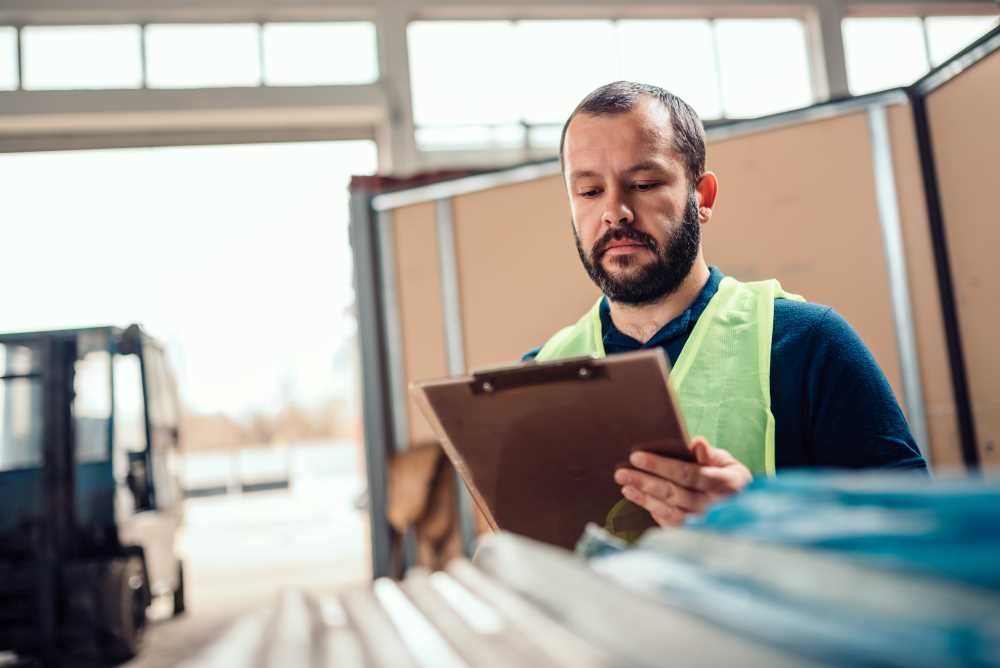 What Are Forklift Extensions?
Forklift extensions (also called forklift extenders or long lifts) are tools that allow you to safely lift and move loads that are irregularly shaped or have dimensions that are outside the scope of your regular fork's ability. These tools are essential to a warehouse or industrial material yard that stores and ships various types of products. While you may not always need a forklift extension, it's always better to have a couple on hand for when the job requires such tools.
Forklift extensions increase the stability of your fork when you are lifting irregularly shaped loads and reduce the risk of damage to your products. They come in various sizes and load capacities, for various uses. Some forklift extensions are designed for indoor warehouse use, while others are designed to help you lift odd shaped loads in outdoor environments.
It's important to note that while forklift extensions can increase productivity, they also decrease the maximum lifting capacity of your forklift. Your forklift's lifting capacity is regulated on its normal dimensions. Whenever you add something that changes these dimensions, your maximum lifting capacity decreases. When overloaded, your forklift extension can make your load unstable. 
Each warehousing facility and job type has their own safety requirements when it comes to forklift extensions. OSHA also has their own set of safety requirements when it comes to forklift extensions.
Top Forklift Extensions For Sale ?
Let's take a look at some of the most popular forklift extensions available. These top prospects are so accessible that you can order them on Amazon, without ever leaving your office.
These forklift extensions from BestEquip are a consumer's top choice. They are made from heavy duty carbon steel and come in several sizes – 72″x5.5″, 84″x5.5″, 96″x5.5″, 60″x5.5″, and 84″x4.5″. 
BestEquip's forklift extensions feature fully welded steel with cast steel tips that are made for extreme studiness and durability. 
They also have a steel retaining strap that prevents your extension from sliding off your fork. Their front end is curved so that you can conveniently move your product without damage.
For easy application and durability in moving long objects and large palettes, check out VBENLEM's forklift extension. These forklift extensions are made from a tough welded steel that you can count on for long term, durable use. 
Their loop style back keeps the extension steady and firmly attached to your fork, and requires no extra tools to mount. It measures 96″ x 5.5″x 1.5″.
This forklift extension from Vestil is a great option for when you need extra support in lifting oblong and oversized objects.
They spot a loop styled steel retaining strap that keeps the extension firmly mounted on your fork and prevents sliding.
They allow for a maximum capacity of 4000 lbs when evenly distributed. This forklift extension measures 72"x5.5"X2."
To mount this extension, simply insert the steel loop at the tip of your fork and slide it back at a 45 degree angle.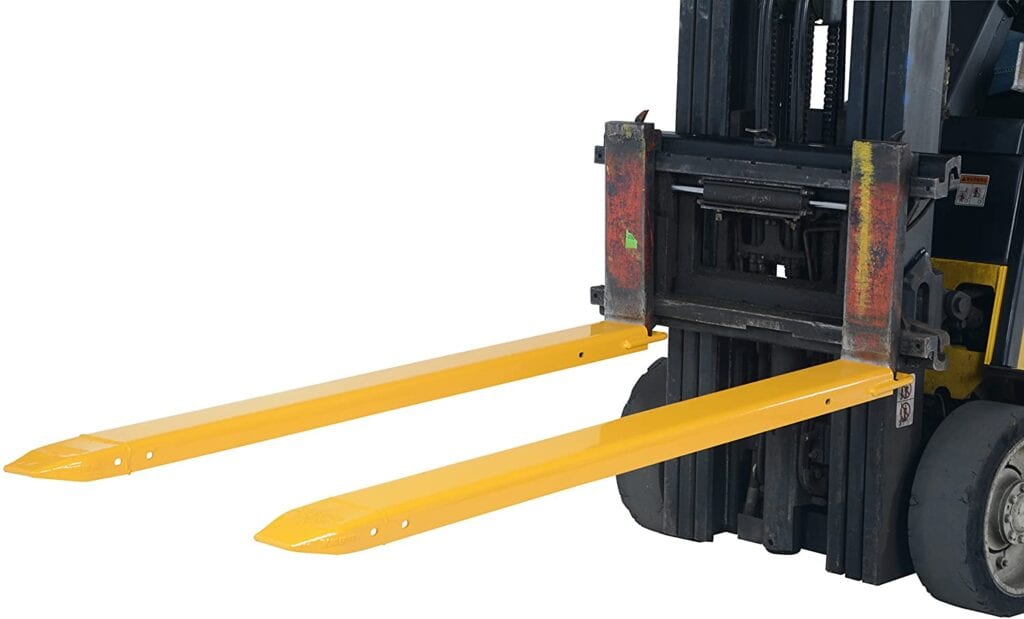 The OrangeA fork extension is helpful when you need to move odd shaped or large sized pallets that are too much for your regular fork.
It features fully welded steel construction that will hold up throughout the years of heavy lifting, and a loop style back that keeps your fork firmly held in place.
You do not need any tools to install this extension, and can have it on and ready to use in just seconds. It measures – 89.37" x 9.45" x 4.33".

Frequently Asked Questions
How to Use Forklift Extensions
Using a forklift extension is a simple and straightforward process. All you need to do is slide the forklift extension over your regular fork, laying it down flat. Most forklift extensions are kept firmly on your fork by a loop style back that locks in place underneath your fork, at the back. Forklift extensions typically require no additional tools for installation and can be installed in just a few seconds. 
How Strong Are Forklift Extensions?
Most forklift extensions are made from durable and welded carbon steel that is a quarter inch thick. OSHA requires all forklift extensions to be no more than 1.5 times the length of the fork. Forklift extensions are strong and durable tools but this requirement limits the dimensions of forklift extensions, and it also decreases the amount of weight you can safely lift and carry. They are designed to help you lift odd shaped and oversized items, but not necessarily heavy ones.
Who Makes Forklift Extensions?
Forklift extensions are made by heavy equipment manufacturers, many of which also make forklifts. You can find them in your local hardware store as well as heavy equipment dealers. You can also find them online through ecommerce sites like Amazon and Uline.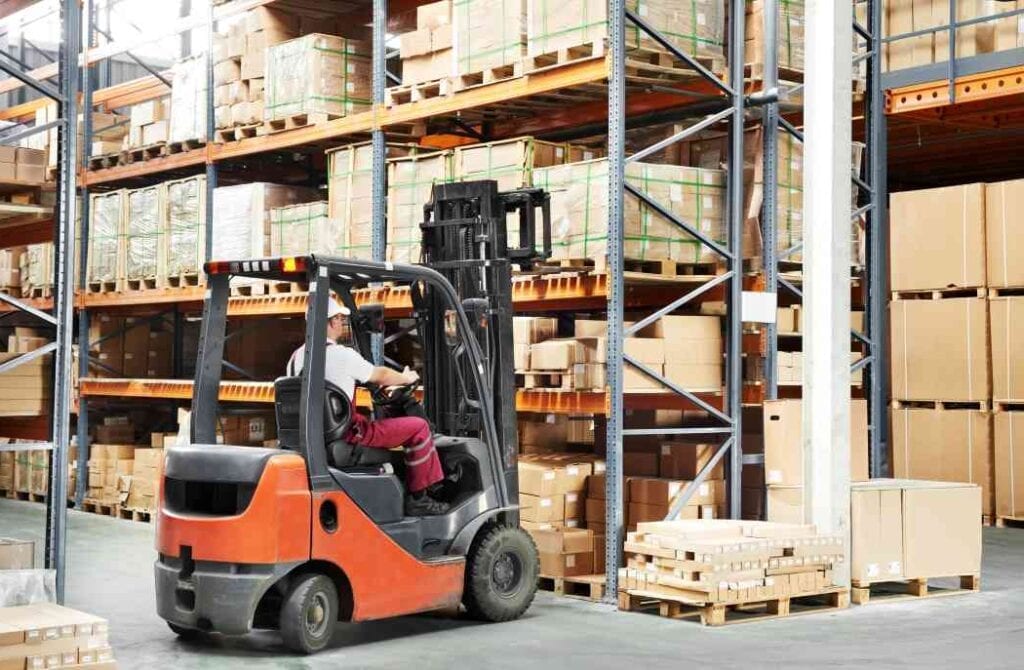 Find the Right Equipment Now
It only takes a few minutes!